Help
How to install the App
To install the App, you simply need to go to https://apps.shopify.com/swatches, and click on the Add App button. Accept the app permissions as well as the monthly charge to complete the installation. You then need to click on the Activate App Embed button to turn on the app on your theme. The app should work fine and requires no coding. (If you have issues, please contact us and we'll solve the problem for you)
No programming or coding skills are necessary to install or to use the App.

Make sure to click on the save button in your theme customizer after you activate the app embed.
Demonstration
You can find a demonstration store showing how this app can be used: https://swatches-app.myshopify.com/products/bagpack
Frequently Asked Questions
How to use the App?
The App was made to be very simple to use but still has a lot of advanced features. To add swatches to a product, you need to add a "Color" option to your product:


Then you must open the Swatches App by in the Apps Tab of your admin. The app will automatically detect the swatches names you used in your store. You can start editing your swatches by choosing a swatch type and a value. There are three swatch types: One Color Swatch, Two Colors Swatch and the Image/Pattern Swatch.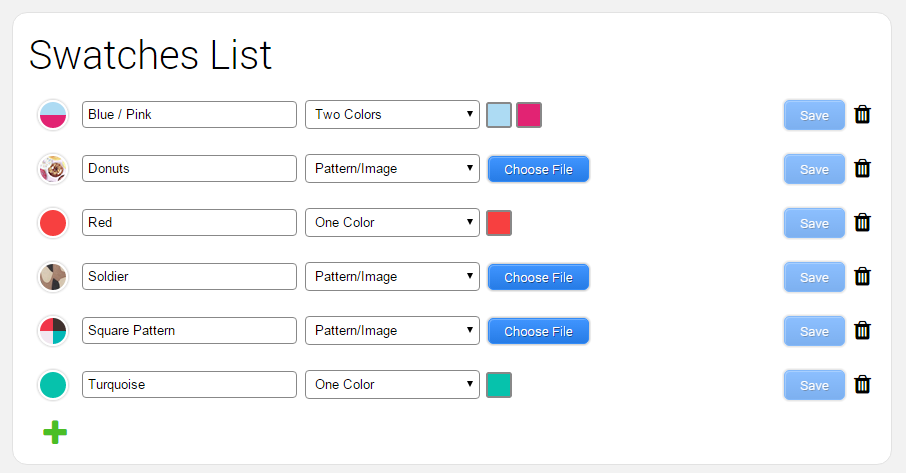 After editing your swatches you can go back to your store and see the swatches instead of the old drop down menu.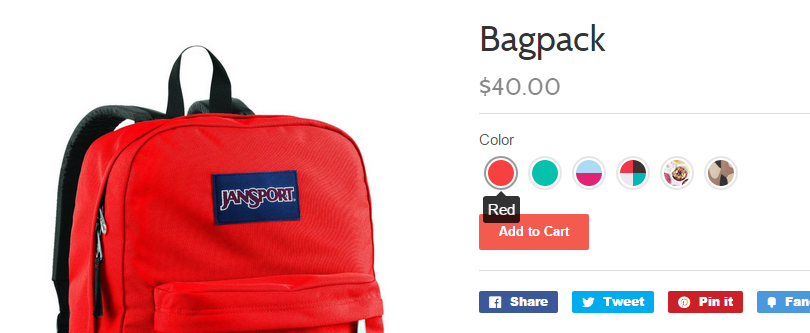 My swatches are not updating.
Modifications made through the app take a dozen minutes before they propagate to the live store.
I want my colors to be setup as separate products.
The Swatches app uses variants for the colors. If you want your colors to be setup as separate products, you should instead use this other app:
Product Colors
I want to have more than 100 colors.
Since the app uses variants for the colors, you will not be able to add more than 100 variants due to Shopify limitations. In that case we recommend using this different app instead since it doesn't rely on variants allowing you to add unlimited color combinations:
Live Preview Options
I want swatches to display on collection pages
At this time, the Swatches app doesn't support displaying swatches on collection pages since it requires implementing custom coding to your theme. We offer an installation service (for most themes) where we integrate the swatches on collection pages (under the product images) for a $120 one-time fee. If you are interested in this, you can contact us at: contactuser@domainwebyze.extcom
Make sure to specify that you are refering to the Swatches app and provide details such as a URL of a product page that already uses the Swatches app.
I want swatches to work on fields other than "Color" fields
If you want to use color swatches for fields other than "Color" fields, you need to go to your Theme Settings -> App Embeds -> Swatches by Webyze and add the field names you want the app to turn into swatch fields. By default, the app detects these fields as color fields: "color,colour,colors,colours,material,materials,fabric,fabric,finish,farbe,farve,färg,farge".
Feedback & Support
Feel free to leave a review for our App on the Shopify App Store. You can give us feedback and contact us at: contactuser@domainwebyze.extcom